Innovative Ear Wax Removal Tool Set
This is the most innovative and painless Ear Cleaner Set helps you to extract ear wax efficiently. Give you a happy removing ear wax experience. Safe for both kids and adults!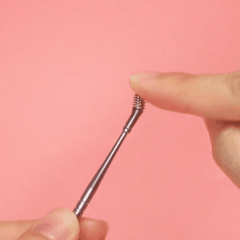 MAIN FEATURES -
Wider spoon shaped head, easy to use and comfortable, easy to clean up the fouling around the ears.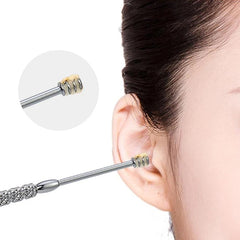 Circular spiral head, cleaning large earwax.
Spring type spiral head: gentle and comfortable, cleaning small ear wax, 360 degree earwax removal.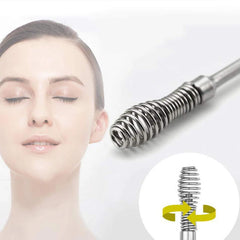 Medical grade stainless steel construction ensures constant durability.

HIGH QUALITY & SAFE TO USE. Made from Medical Grade anti-rust stainless steel & silicone plastic. 100% Safe to use for kids and adults.

THE ULTIMATE EAR CLEANING KIT. The most complete set of ear wax remover tools available in a single package
WARNING -
Keep in a safe place away from children. Package contain small parts that can cause choking in children. Always clean the tool tip with alcohol or soap and water before using. The ear canal is very delicate, like any sharp object please handle with care. Use the tools gently and carefully. Do not push the ear curette too deep into the ear canal. Be extra careful when helping children cleaning their ears. Consult a doctor for help if your ear have any signs of discomfort. Please remove the battery to avoid damage to the tool if you're not planning to use it for a long time.
Click the "Add To Cart" Button Above To Order Now!
Limited Quantity Available - Will Sell Out Fast!