Eco-friendly Aluminum Can Crusher
Great for the environment and your pocketbook to. Pays for itself in no time! Safe and reliable, mounts to any solid surface, wall or table etc. Hardware included. Recycle aluminum soda, pop, and beer cans by compressing to approx. 20% of its original size.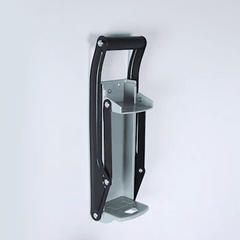 MAIN FEATURES -
2 IN 1 DESIGN -

The Eco Friendly 16 oz manual can crusher and bottle opener is mountable on walls and tables to compact aluminum beverages and soda cans, while also opening beer bottle caps.
ENVIRONMENTALIST - Durable sturdy iron materal can crusher/smasher perfect for recycle aluminum soda, pop, and beer cans. For use with standard 16oz. aluminum can.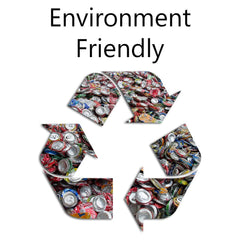 EASY OPERATING - This Aluminum Can Crusher has a soft easy grip handle for comfortable use every time and provides ultimate control when crushing. You can Easy and quick to crush a can. Simply hold the crushers handle and pull it down to crush a can.
WITH MOUNTING SCREWS - This can crusher is wall-mounted, can be installed on the wall, with 4 mounting screws by free, installation is simple and convenient, more space-saving.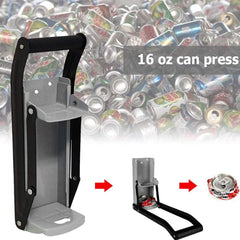 GREAT FOR THE RECYCLING - Easily crushes cans to save room in the garbage or recycling bin by compressing to approx 20% of its original size.
Package Includes -
Eco-friendly Aluminum Can Crusher x1