Bug Zapper Light, 2 in 1 Portable LED Mosquito Killer Lamp
This mosquito zapper attracts all pesky flying insects and kills them by 400 nm ultraviolet light. No longer exposed to chemicals, radiation or odor!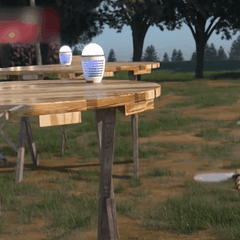 Main Features -
【2-IN-1 CAMPING LANTERN & BUG ZAPPER 】- Featured with 400NM UVA inside the LED bulb that attracts insects, then the high-voltage electric grill gets them trapped and killed. It is not only a mosquito zapper but also an outdoor camping lamp. UV lamps and lights can be simultaneously or separately. This perfect combination with the high-efficiency electronic bug zapper light can be placed or hung whether at home or for your outdoor adventure.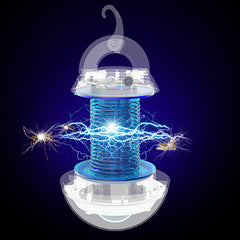 【USB CHARGING & 3 LIGHTING MODES】- Built-in 2000mAh Polymer lithium battery and charging through the USB socket by AC adapter, computer, and power bank, it can last up to 24 hours when using bug zapper and lighting mode, with fully charging just in 4 hours. 3 adjustable lighting brightness includes 20%-50%-100% of lights that meet your personal preference.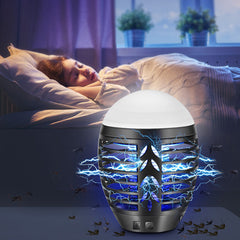 【IPX6 WATERPROOF & 2 CLEANING WAY】 - The mosquito zapper is equipped with a full-body IPX6 waterproof function. Due to its highly waterproof body with an IPX6 rating, the electric bug zapper can be used in rainy days safely and cleaned by running water directly. No worry about rainy weather or wet environment but not to soak it in the water for a long time, ideal for indoor and outdoor use.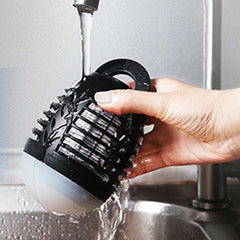 【SAFE & USER-FRIENDLY DESIGN】- Retractable hook can be laid flat and suspended when use. You can see a place for Mosquito repellent under the hook. Silicone lamp cover effectively protects the lamp beads from damage. A safe outer grid prevents people or pets from being electrically shocked by unintentional touch. Free-radiation and free-toxic. It is safe to use without chemicals, harmless to the baby and pregnant.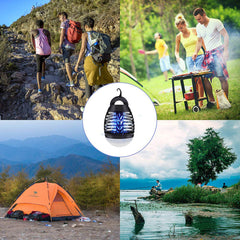 【LIGHTWEIGHT & PORTABLE FOR OUTDOOR ADVENTURE】- Sturdy Hook is suitable for hanging anywhere you need, then you can hang it up on a string or a tree branch outdoors. With it is not noisy when working, this UV bug zapper is portable to carry and can be used outdoors like a camping tent, hiking, fishing, mountaineering corridor, or indoor occasions like office, kitchens, and home.
Specifications -
Material: ABS
Power: 6.8W
Weight: 255 g
Waterproof Grade: IPX6
Size: High150mm, Diameter90mm
UV Light Wavelength: 360-400nm
Input Voltage/Current: Micro USB 5V/1A
Range of Mosquito Control: 8-10 m²
Power Source: External power adapter by micro USB port
Built-in Battery: 3.7V, 2000mAh Polymer Li Battery
Fully Charge Time: 4 hrs
Working Time after Fully Charged: ≥30 hrs
Indoor & Outdoor Application: Camping tent, hiking, fishing, mountaineering corridor, office, kitchens, home and etc.